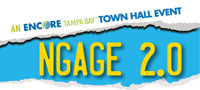 Thanks to all who participated in and attended the first Town Hall Event and made it such a success!
Recent Articles: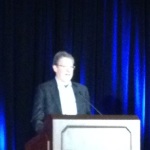 Two weeks ago, more than 400 Encore leaders gathered together in Tempe AZ, to explore ways to make the shift from an aging society to a powerful source of talent that chooses to use the accumulated skills, experience and wisdom to tackle many of society's most urgent challenges.  John Tarnoff wrote … [Read More...]
More than a ½ million residents in Hillsborough and Pinellas county are over the age of 50 and considering the possibilities for a new chapter in their lives. Traditional retirement may not be the next step. There is a social change movement called Encore, growing across the country- as millions of baby boomers transiton into this new stage of life with a vast reservoir of talent and experience – where people want to continue some kind of work (encore) that combines personal meaning, with social impact and sometimes continued income. Bevan also talks about some of the reasons why the largest growing age group of entrepreneurs in the US is from ages 55-6 65 years old
the recession and the fact that boomers are faced with high rates of unemployment,
that adults are actually living longer and can find the time to launch their own enterprise,
the boomer generation has been making up their own rules as to how they want to live their lives- this is not any different now.
The other important imperative in this movement – is to help organizations, leaders and the community at large to think differently and to innovate- ways that we can leverage this encore talent to strengthen our organizations, community and economy in Tampa Bay.
ENCORE ACADEMY
AT THE GREENHOUSE
The Encore Academy is here to provide workshops, resources and connections that will help you discover and launch your Encore career!
Upcoming Workshops:
No workshops scheduled at this time.
Sign up for updates about Encore Tampa Bay and our newsletter
ENCORE CAREER:
A second or third act that combines personal meaning with social impact and continued income.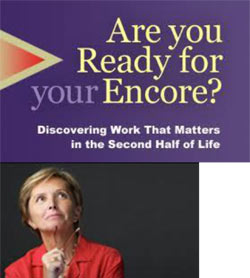 DID YOU KNOW?
10,000 Baby boomers are turning 65 every day
9 million people ages 44-70 are in their encore career
Another 31 million are interested in joining them
37% of boomers say they expect to retire after 65
10,000 adults are turning 60 every day
Over 40% of all start ups in America are by adults over 45 years of age.
70% of all boomers expect to work in some capacity after they "Retire"