WHAT IS #GIVINGTUESDAY?
We have a day for giving thanks. We have two for getting deals. Now, we have #GivingTuesday, a global day dedicated to giving back. On Tuesday, December 1, 2015, charities, families, businesses, community centers, and students around the world will come together for one common purpose: to celebrate generosity and to give.
ENCORE TAMPA BAY is dedicated to strengthening the lives, organizations and economy of our community by creating a network of resources and organizations that can assist experienced adults to discover, retool and connect to their encore career.
Your donation will give us the additional resources to execute more programs and initiatives!
ARE YOU READY TO EMBRACE LIFE IN THE SECOND HALF?
Let Encore Tampa Bay be your guide and go to resource
for helping you discover and connect to your ENCORE!!
ECO Byte: SESSION 3
Personal Knowledge Mastery – the key to today's DIY work world.
December 14, 7:00 – 8:15 pm
St Petersburg Greenhouse FREE -
REGISTER HERE
Employers are looking for those who invest in their own professional development. Learn what skills, attitudes, and behaviors enable you to be a successful online learner to show you are open to, and are always, learning about working today and tomorrow.
Recent Articles: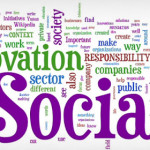 At the heart of the encore movement is the importance of purpose and the desire to make a difference. We know that the most predominant encore pathway is starting your own business. Encore.org conducted a survey in 2014 of adults ages 44-70, and found that one quarter; approximately 25 million … [Read More...]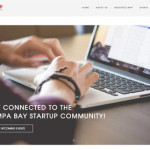 Are you curious about your first step to starting a business? Do you want to explore if you have an idea that can grow into a business? The support and resources for startups in Tampa Bay are endless and the startup community is thriving. Navigating these resources can be tricky and … [Read More...]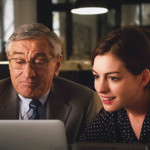 Last week I went to the movies to see The Intern, starring Robert DeNiro and Ann Hathaway. Ben, DeNiro's character, is 70 and gets an intern position at Ann Hathaway's fashion start up. It was an enjoyable movie, although predictable. But the scene where Ben comes to work the first day really … [Read More...]
ENCORE ACADEMY
AT THE GREENHOUSE
The Encore Academy is here to provide workshops, resources and connections that will help you discover and launch your Encore career!
Sign up for updates about Encore Tampa Bay and our newsletter
ENCORE CAREER:
A second or third act that combines personal meaning with social impact and continued income.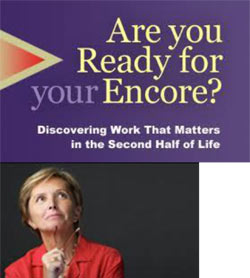 DID YOU KNOW?
10,000 Baby boomers are turning 65 every day
9 million people ages 44-70 are in their encore career
Another 31 million are interested in joining them
37% of boomers say they expect to retire after 65
10,000 adults are turning 60 every day
Over 40% of all start ups in America are by adults over 45 years of age.
70% of all boomers expect to work in some capacity after they "Retire"