---
ENCORE TAMPA BAY IS PARTICIPATING IN GIVE DAY TAMPA BAY
Thanks to the Community Foundation of Tampa Bay- we have the opportunity to participate in Give Day Tampa Bay. Encore Tampa Bay is at a critical crossroads as an organization, poised to take the next step towards creating and implementing a plan and vision for building an encore community. We are committed to help older adults to discover, retool and connect to their encore. There are efforts underway to help non profits and business organizations and entrepreneurs to leverage that encore talent. WE need your help to take this next step!! Please consider helping us on Give Day Tampa Bay- pledge now or donate on May 5.
What is Give Day Tampa Bay?
A 24-hour, online giving event on
May 5, 2015
sponsored by the Community Foundation of Tampa Bay and Florida Next Foundation to grow philanthropy in the Tampa Bay area. This initiative will provide new opportunities for individual and corporate philanthropy, bolster charitable giving to the Tampa Bay region's nonprofit community, and heighten awareness of the region's entire nonprofit sector. Anyone can donate to their favorite nonprofits on May 5 from midnight to midnight.
OR
Thank you for your support!
---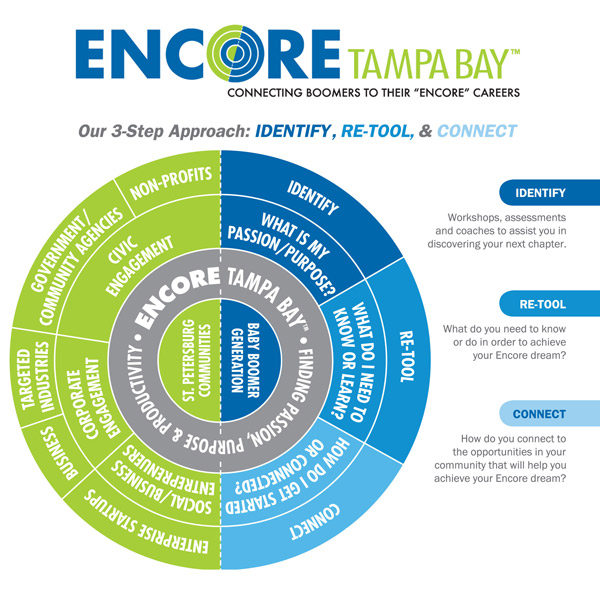 More than a ½ million residents in Hillsborough and Pinellas county are over the age of 50 and considering the possibilities for a new chapter in their lives. Traditional retirement may not be the next step. There is a social change movement called Encore, growing across the country- as millions of baby boomers transiton into this new stage of life with a vast reservoir of talent and experience – where people want to continue some kind of work (encore) that combines personal meaning, with social impact and sometimes continued income. Bevan also talks about some of the reasons why the largest growing age group of entrepreneurs in the US is from ages 55-6 65 years old
the recession and the fact that boomers are faced with high rates of unemployment,
that adults are actually living longer and can find the time to launch their own enterprise,
the boomer generation has been making up their own rules as to how they want to live their lives- this is not any different now.
The other important imperative in this movement – is to help organizations, leaders and the community at large to think differently and to innovate- ways that we can leverage this encore talent to strengthen our organizations, community and economy in Tampa Bay.
Recent Articles:
Join us on May 20th as author, Chris Farrell speaks about "Unretirement" at the Poynter Institute in St. Petersburg, FL! For almost two years I've been writing blog posts about the exciting opportunities around the ever growing encore movement. There is an increasing number of inspiring … [Read More...]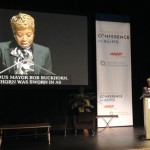 In the last seven days, Tampa Bay has had the distinct opportunity to host two significant events, The White House Conference on Aging Regional Forum and a visit from the founder of the encore movement, Marc Freedman. White House Conference on Aging The White House Conference on Aging convenes … [Read More...]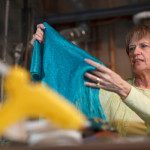 Move over millennials, the boomers are taking over when it comes to entrepreneurship. In 2013, Kaufman reported 20% of all new business ventures in the US were started by entrepreneurs aged 50-59. An additional 15% of startups were started by those 60 years and over, which means 35% of all startups … [Read More...]
ENCORE ACADEMY
AT THE GREENHOUSE
The Encore Academy is here to provide workshops, resources and connections that will help you discover and launch your Encore career!
Upcoming Workshops:
Conversations and Presentations on the Journey: "Targeted Networking"
April 22, 2015 6:00-8:00 pm
St Petersburg Greenhouse
FREE - REGISTER
---
ENCORE CONNECT ONLINE (ECO)
5 hour sessions (online)
May 7 - August 10
$25 |
Register
LEARN MORE
---
Conversations and Presentations on the Journey: Creating True Happiness in the Encore years.
May 8, 2015
9:00 - 11:00 am
St Petersburg Greenhouse
REGISTER
Sign up for updates about Encore Tampa Bay and our newsletter
ENCORE CAREER:
A second or third act that combines personal meaning with social impact and continued income.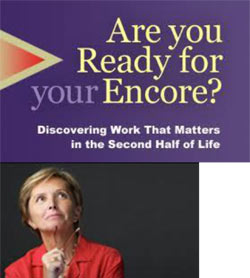 DID YOU KNOW?
10,000 Baby boomers are turning 65 every day
9 million people ages 44-70 are in their encore career
Another 31 million are interested in joining them
37% of boomers say they expect to retire after 65
10,000 adults are turning 60 every day
Over 40% of all start ups in America are by adults over 45 years of age.
70% of all boomers expect to work in some capacity after they "Retire"