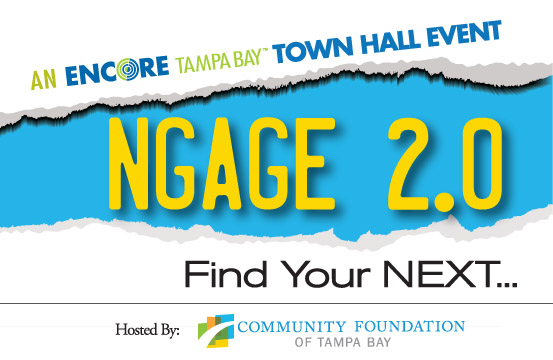 "TAPPING EXPERIENCED TALENT TO STRENGTHEN OUR COMMUNITY"


JOIN THE MOVEMENT: GET ENGAGED, FIND YOUR NEXT...
PROJECT, DREAM JOB, HOBBY, NEW ENTERPRISE,
OPPORTUNITY TO MAKE A DIFFERENCE,
CONSULTANT OR ADVISOR.
October 21, 2014 4:30 to 7:00pm - Feather Sound Country Club
---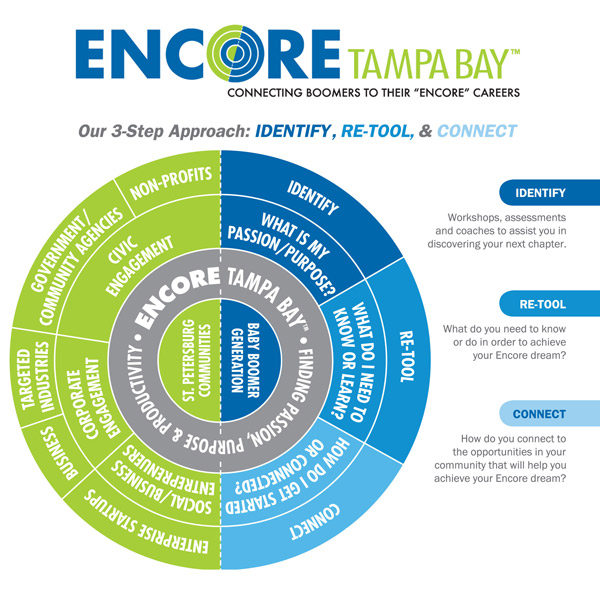 WELCOME TO THE ENCORE ACADEMY
It's YOUR future. How are you going to use it? The largest generation in American history is in transition, moving from midlife to a new stage of life and work. Tens of millions of people between the ages of 44 and 70 say they want encore careers that combine personal meaning, continued income and social impact.
OUR OPPORTUNITY:
The Tampa Bay area is home to more than 300,000 Boomers aged 46-64 and data show several new Bay area residents turn 50 every hour. With 40% of the St Petersburg's population over 50 years old, we have an incredible opportunity to tap into their talent and experience to benefit our community and economy.
OUR MISSION:
To transform the Tampa Bay community and economy by assisting adults of age 50+ to explore options and select a path to an "Encore career" – meaningful paid or volunteer service, career change and/or entrepreneurship.



---
Recent Articles: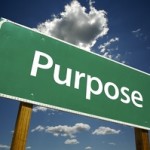 It has been a little over a year since I founded Encore Tampa Bay and began the mission of accelerating the encore movement in our community. There have been many important lessons I have learned along the way. At the heart, the concept of discovering your encore boils down to one thing, finding … [Read More...]
ENCORE ACADEMY
AT THE GREENHOUSE
The Encore Academy is here to provide workshops, resources and connections that will help you discover and launch your Encore career!
Sign up for updates about Encore Tampa Bay and our newsletter
Upcoming Workshops
What's Next
August 18, 2014
9:00 AM - 12:30 PM
The Greenhouse
$50 | Register | Info
Discover your Strengths.
Build Confidence
August 22, 2014
9:00 AM - 12:00 PM
The Greenhouse
$25 Donation or Free
Register | Info
For further questions or information contact us at encoretampabay@gmail.com.
FREE Discussion Groups
FREE Encore Discussion Group
"Who Do I Want to Become When I Grow Up?: Rethinking Identity in Mid and Later Life"
August 26 - 10:30AM- 12:00PM
Greenhouse Training Room
RSVP to Candace Watson at cwatson2@tampabay.rr.com
ENCORE CAREER:
A second or third act that combines personal meaning with social impact and continued income.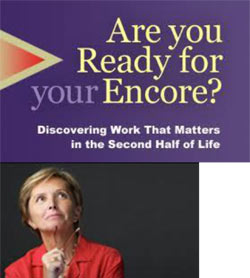 DID YOU KNOW?
10,000 Baby boomers are turning 65 every day
9 million people ages 44-70 are in their encore career
Another 31 million are interested in joining them
37% of boomers say they expect to retire after 65
10,000 adults are turning 60 every day
Over 40% of all start ups in America are by adults over 45 years of age.
70% of all boomers expect to work in some capacity after they "Retire"