Upcoming Encore Academy Events
Are you ready to make a difference in your community?
Are you looking for volunteer and paid positions
in the non profit community?
Who do you want to be when you grow up?
Nine Steps to Landing Your Perfect Job
Thursday, September 1, 2016 9:30 – 11:30 a.m.
Entrepreneur Collaborative Center, Ybor City
2101 E. Palm Ave., Tampa, FL 33605
A common approach that job seekers use when marketing themselves to prospective employers is to write their resume without any idea of who their target employer is and what value they may bring to help them solve business problems. If writing or updating your resume and sending it out to numerous companies is not how you should begin your search, then where should you begin? This workshop answers this question and more.
Looking for a new job? Don't update your resume!
In this workshop you will discover Nine Steps to Landing Your Perfect Job:
The 9 disciplines of a marketing approach
Discover Your True Passion and Value
How to build self confidence
Steps to creating an effective resume and cover letter
Effective networking and personal brand reputation
Leveraging your connections and the hidden job market
And more!
Join Lisa Huetteman, author, entrepreneur and co-founder of Black Diamond Associates, for this practical and informative session. For the past 12 years, Lisa has worked with individuals and organizations find the right fit and help people develop their unique gifts. Based on over a decade of experience, she is the co-developer of the Find My Perfect Job formula.
Free, but must register HERE
Rethinking Your Identity in Mid Life. Who do you want to be?
Friday, September 9, 2016, 9:00-11:00 a.m.
at The Greenhouse in St. Petersburg.
You've had many roles in your lifetime…parent, worker, teacher, spouse. By midlife, our identity may seem well established. You're proud of what you've accomplished! But as you approach midlife, those roles may be shifting and you long to do something else.
Join us for a thought provoking discussion group, where we will cover areas such as:
Creating an expanded sense of self through mindful reflection and focus on new areas of your life.
Exploring sides of yourself that may have been suppressed
Discovering new opportunities to empower your emerging identity.
Come refashion your identity, embrace your passions, and explore new pathways. This is also a great opportunity to work with Bobbi Gemma, Master Certified Coach, Executive Coach and Life Architect with the Gemma Group.
Free but must register HERE.
Basics of Mindfulness
Monday, September 19, 2016, 6:00- 8:00 p.m.
Entrepreneur Collaborative Center, Ybor City.
2101 E. Palm Ave., Tampa, FL 33605
The practice of mindfulness can lead to changes in your body, mind and soul and it has grown astoundingly in popularity in the last decade.  Lots of people think about trying mindfulness, but it can be hard to know where to begin. We'll show you the basics of how to begin your practice.
Mindfulness means maintaining a moment-by-moment awareness of our thoughts, emotions, bodily sensations, and surrounding environment. It is also a set of techniques and methods for systematically developing this awareness. The practice of mindful awareness has a variety of impacts supported by science, including:
Improvements in physical health like lowering blood pressure and boosting the immune system
Reduction in toxic stress
Increase in emotion regulation, and
Improvement in sustained attention, focus and executive functioning.
The central objective of the course is for participants to have the tools necessary to continue their mindfulness practice after the course completes.  So, join us as we learn about the basics of mindfulness and how to practice it and realize these and many other benefits.
The facilitator of this workshop is Candace Watson who has 7 1/2 years experience as a daily practitioner of mindfulness and has been a member of Florida Community of Mindfulness for five years.
Free, but must register at HERE
Change Your Meaning, Change Your Life
Wednesday, September 28, 2016
6:00 – 8:00 p.m. at the Greenhouse in St. Petersburg
In this interactive workshop, transformational life coach and Huffington Post blogger, Dan Mason, helps you understand the driving forces that control the quality of our lives. You will learn how to make the mental shift that can take you from an experience of isolation to love, from scarcity to abundance. Feeling stuck in your career and relationships? This workshop could be the jumpstart you need to find your center and transform your life.
Free, but must register at HERE
Recent Articles from the Blog
Last month we covered the topic of Ageism and how society's view of getting older can create obstacles for those of us who are re-imagining a new stage of life. This month I would like to challenge all of us to stop looking at the perceptions and attitudes of those around us, but rather to look at … [Read More...]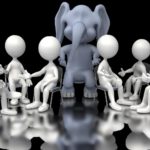 It is time to name the elephants in the room - age and experience!! There is not a week that goes by that I don't hear from job seekers about how frustrated, angry or simply dumbfounded they are by their inability to land a job that suits their experience! Hiring managers are saying over and over … [Read More...]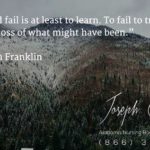 It seems like everywhere you turn today – everyone is talking about finding true happiness or finding your true purpose or calling.  An important key theme we hear in all of these areas is that it is an "INSIDE JOB".  It is not something that someone else can provide for you or a workshop that tells … [Read More...]
ENCORE ACADEMY
AT THE GREENHOUSE
The Encore Academy is here to provide workshops, resources and connections that will help you discover and launch your Encore career!
ENCORE CAREER:
A second or third act that combines personal meaning with social impact and continued income.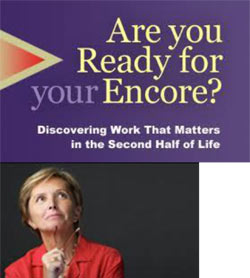 DID YOU KNOW?
10,000 Baby boomers are turning 65 every day
9 million people ages 44-70 are in their encore career
Another 31 million are interested in joining them
37% of boomers say they expect to retire after 65
10,000 adults are turning 60 every day
Over 40% of all start ups in America are by adults over 45 years of age.
70% of all boomers expect to work in some capacity after they "Retire"

Start your New Year by Taking the Next Step on your Encore Journey!