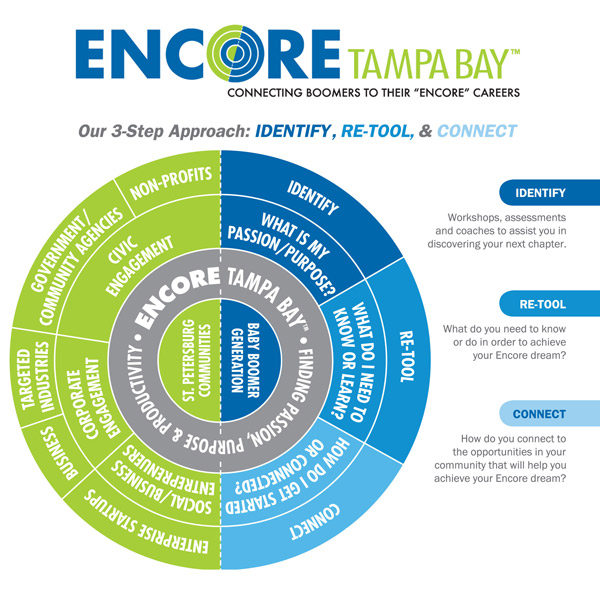 WELCOME TO THE ENCORE ACADEMY
It's YOUR future. How are you going to use it? The largest generation in American history is in transition, moving from midlife to a new stage of life and work. Tens of millions of people between the ages of 44 and 70 say they want encore careers that combine personal meaning, continued income and social impact.
OUR OPPORTUNITY:
The Tampa Bay area is home to more than 300,000 Boomers aged 46-64 and data show several new Bay area residents turn 50 every hour. With 40% of the St Petersburg's population over 50 years old, we have an incredible opportunity to tap into their talent and experience to benefit our community and economy.
OUR MISSION:
To transform the Tampa Bay community and economy by assisting adults of age 50+ to explore options and select a path to an "Encore career" – meaningful paid or volunteer service, career change and/or entrepreneurship.



---
Recent Articles:
By guest blogger Lisa Jacobson, Career Consultant and Executive Coach of Workplace Solutions One of the best workshops I attended at the 2014 Positive Aging Conference in Sarasota, Florida last week was presented by Francine Toder, Ph.D.  Dr. Toder shared inspiring insights and stories from her … [Read More...]
Sign up for updates about Encore Tampa Bay and our newsletter
ENCORE ACADEMY
AT THE GREENHOUSE
The Encore Academy is here to provide workshops, resources and connections that will help you discover and launch your Encore career!
Upcoming Workshops
AARP discounts for next 3 Whats Next workshops - Only $25
"Your Personalized Path to Entrepreneurship "
March 7 from 9-12pm at the Greenhouse | Register
"What's Next "
March 10 from 9-12:30 pm at the Greenhouse | Register
AARP Members $25! | AARP Registration
"Tapping into the Power of Social Media"
March 14 from 9am-12pm | Register
For further questions or information contact us at encoretampabay@gmail.com.
Discussion Groups
Discussion groups are FREE and do not require a registration.
Encore Career Handbook Book Club
February 24- 2-4 pm - Greenhouse
Encore group discussion
"Redefining Success from the Inside Out"
March 17- 10:30-12 pm- Greenhouse
ENCORE CAREER:
A second or third act that combines personal meaning with social impact and continued income.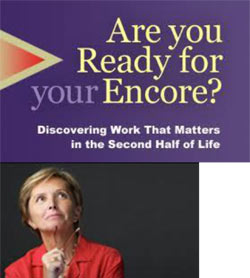 DID YOU KNOW?
10,000 Baby boomers are turning 65 every day
9 million people ages 44-70 are in their encore career
Another 31 million are interested in joining them
37% of boomers say they expect to retire after 65
10,000 adults are turning 60 every day
Over 40% of all start ups in America are by adults over 45 years of age.
70% of all boomers expect to work in some capacity after they "Retire"