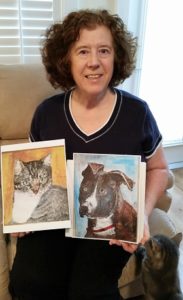 After graduating from college with an Arts degree, Janet Saunders enjoyed a professional career as a teacher, while working at the Humane Society as a volunteer. Now retired, she continues to enjoy life along with more time to help the Humane Society.
Janet's teaching career was ignited when a neighbor suggested she teach pre-school. After years of experience in this role, Janet was able to start her own pre-school in the church she attended.
When her husband lost his job in 2009, an opportunity came along in Tampa that would require them to relocate. Janet would have to give up her position as Director of the Preschool.
Lucky for Janet, she immediately got a job as a substitute teacher at Schaarai Zedek Synagogue and was quickly promoted to curriculum coordinator.
During that time, Janet enrolled in one of the adult learning programs being offered at the Hyde Park United Methodist Church. The program was an Encore TampaBay workshop. The focus of the workshop was to reflect back on your life to see if there was anything that you could apply to your life going forward.
Reflecting back to her love for animas, Janet identified a strong passion still existed, and felt compelled to do something about it. A passionate painter in her younger years, it had been over 40 years since she last held a paint brush. Acknowledging her love for animals and art, she put the two together.
Starting with the animals in the Humane Society, Janet started painting animals, focusing on the ones in the shelter for an extended period of time.  After making them the focus of her art works, she began noticing these animals were adopted by new owners within weeks.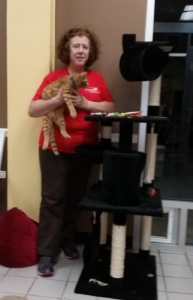 There was Jenny, a beautiful 1 year old Abyssinian mixed cat who had been in the shelter since August 2016. Upon completing Jenny's portrait on Friday, January 13, 2017, she was adopted out the next day! Similar situations had happened before as well with various other Humane Society animals. Clearly Janet's work was making a difference!
Along with rediscovering her love for art, the Encore workshop helped Janet pin-point experiences where she derived the most enjoyment. For Janet, it wasn't so much teaching as it was putting together course curriculums.
Recognizing this, in 2015 Janet started "Paws for Literacy". Using her career skills as a teacher, combined with her love for animals, Janet developed the "Paws for Literacy" curriculum, a most effective and passion driven project for the Tampa Humane Society.
Thanks to the Encore program, and the insights she gained, Janet gives us all a very valuable life-learning saying: "Rather than focusing on re-inventing yourself, take a look back at your younger years and identify the passions you once had. Let them be your guide, and you will find joy and purpose."