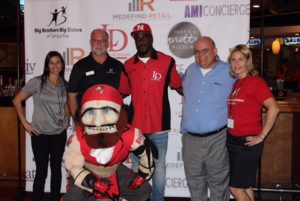 By guest blogger MIKE STEPHENSON
Jack Sheppard was restless.
A pinball of a man who constantly bounced from task to task, Sheppard was four weeks into a buyout after a three-and-a-half decade newspaper career.
He had helped break open one of the biggest college football scandals in history at Southern Methodist University. He had covered Super Bowls. He had served 21 years as sports editor through the golden age of Tampa Bay area sports.
Now he needed something to do.
"Somebody's going to have to take a flyer," he remembers thinking.
Sheppard, 59, had management and communication skills built through the newspaper career he fell into through a fluke at The Ohio State University when the prospective optometrist got crosswise with organic chemistry and then randomly was assigned to cover lacrosse for a journalism class. He fell in love with sports journalism.
After stints at papers in San Angelo and Dallas, Texas, he took a job covering the NFL for the St. Petersburg Times, soon moving into management and then becoming sports editor in 1993. The sports market was expanding rapidly, adding the NHL Tampa Bay Lightning, the major league Tampa Bay Rays and a Division I football program at the University of South Florida.
"We just got to do so much," Sheppard said, noting a Tampa Bay Buccaneers Super Bowl title in 2003, Lightning Stanley Cup win in 2004 and Rays World Series appearance in 2008. "I used to brag to my colleagues around the country … that we were still able to think about what can we do that's bigger and better and grander."
But the challenging economics of the newspaper industry eventually caught up the the Times with tighter space, earlier deadlines and layoffs. "It started to dry up quickly," Sheppard said. "The creative parts of the job were more challenging because everything was about money."
By late 2014, the outlook at the paper, which had re-branded into the Tampa Bay Times in 2012, was bleak. Sheppard decided to jump and took a buyout. He had some advantages: His wife, Cindy, had a good job with strong benefits; they were financially stable; he had renovated his house.
"All the big-ticket things were behind us," he said.
Sheppard had an interest in working with children that had been stoked in 2003 when he and Cindy mentored a boy through the Big Brothers Big Sisters program for four years. Knowing he could afford to make less and wanted to make a difference by working with youth, Sheppard focused on non-profit organizations that worked with kids. His connections through the Times helped him get in to visit with CEOs and other leaders of area organizations.
Sheppard hit it off with Stephen Koch, CEO of Big Brothers Big Sisters of Tampa Bay. All that was available was an entry level job recruiting "Bigs" in Pinellas County.
Sheppard needed something to do, so he took it.
Getting his foot in the door helped Sheppard in many ways. He learned skills he hadn't needed as a sports writer and editor, such as public speaking and PowerPoint presentations.
"It was scary to me. It was frightening," he said. "I hadn't done it, and I wasn't very good at it. But I did it."
After 35 years in the newspaper business, Sheppard said the learning experience was rejuvenating and transformative, teaching him he's not too old to learn.
"What you really know how to do is think and organize and communicate …" he said. "The fact that these skills are transferable is very encouraging and even more so there's so much new stuff I'm learning to do. It's heartening."
After about six months, Sheppard was promoted to managing director of marketing and partnership development. His experience recruiting "Bigs" helped him lead a revamp of the organization's recruitment system that has streamlined the process and dramatically increased the yield rate and quality of candidates from applications.
"That'll be my legacy …" he said. "That's all any of us want to do. We want to have an impact. We want to use our brains and do something that works, that helps. And they've let me do that."
Jack Sheppard's tips for finding your Encore:
Use your connections: Find job prospects at Indeed.com or another service, but use your contacts to get in the door rather than depending on blindly sending a resume.
Get your foot in the door: Find an organization you're interested in and be willing to take a lesser job to learn the skills and the organization. You can advance from there.
Look for your opportunity and knock on the door: Once you know the lay of the land, take initiative to seek a position that allows you to have greater impact.