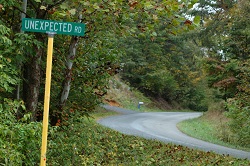 I did not realize it, but I have been preparing to be unemployed for over twenty years.  Good fortune allowed me to live in the same city for several decades.   Wonderful career opportunities provided me with the chance to meet and know extraordinary people.  Love of my community propelled me into volunteer service with marvelous organizations.  Without realizing it, I built a powerful network of business and personal relationships; people who knew me as a professional with high standards of integrity and a deep commitment to ethical performance; people who respected me.
When the unexpected happened, when a position I had truly enjoyed and flourished in was suddenly eliminated, although I did not comprehend it at the time, I was ready.  I admit I didn't feel ready the morning my boss and the HR Director met with me to tell me my job no longer existed due to a departmental reorganization.  I felt disbelief, distress and disappointment.  It took me all of 24 hours to begin activate my powerful network, not as a source of referrals or business development opportunities; this time on my own behalf. 
A job search at any juncture is not for the faint-hearted, but approaching it from the other side of sixty could have been daunting.  However, armed with a virtual Rolodex that would be the envy of many, I set to work, calling, texting, emailing.  With the counsel of a wise friend I characterized my separation from my former employer as the kind of thing that frequently happened when a new leader arrived in an organization, disappointing of course, but forward looking and positive.  I set up an Excel spreadsheet to manage information, deliverables and follow up.  I got up every morning with purpose and intent.  Coffee meetings, lunch meetings, breakfast meetings – I was out looking smart and sassy.  I fairly bristled with optimism. 
It was more than gratifying to be able to secure meetings with those who were in a position to be supportive, helpful and encouraging at a time when the way forward did not seem clear.  To sit down with a valued former colleague or a past contributor to discuss possibilities was invaluable.  To receive messages with offers of assistance was reassuring.  To have my phone calls and emails returned raised my spirits immeasurably.  My network was stellar in keeping in touch just to check in and see how I was.  I was buoyed by good wishes and caring messages.  I was assured of sterling references and enthusiastic endorsements. 
Building a network requires focus and clear intent.  And a lot of energy.  Find a place where people will gather for the express purpose of meeting new people.  Chambers of Commerce offer many opportunities at low or no cost.  Arm yourself with a handful of business cards.  If you are not presently employed have a quantity of cards printed with your contact information and even if you are presently using an email account that is from Hotmail, AOL or Yahoo, open a Gmail account for this purpose. 
Give yourself a pep talk before each event; it's ok to feel shy, it's not ok to be shy.  I always set an achievable goal for a networking event: meet three people with whom I have had a conversation that could lead to another meeting.   To net those three quality contacts you will find it necessary to meet more than three people.   Develop a couple of conversation openers that work for you and remember what your mother told you, everyone likes to talk about themselves.  Exude energy and enthusiasm. 
Follow up after the event with an email inviting further conversation over coffee.  Not everyone will say yes, but those who do will definitely add to your contact base.  Mutual benefit potential works the best, so be prepared to give as well as receive.  You will be memorable if your interest in others is authentic.
No surprise that my next career move came about through a strong and well developed professional relationship.  Unknowingly, I had set the wheels in motion long ago to create a successful outcome to my unexpected search for a new position.  The time to build a strong network of powerful relationships is long before you need it.  If you wait until you do, it may be too late.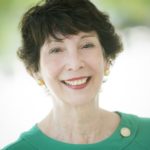 Joanne Sullivan is a graduate of Florida State University. Presently, Joanne is the Director of Community Relations for USF Health.  Her previous leadership positions include development at educational, health care and art institutions.
Joanne also gives back to the community by contributing to many organizations, including Easterseals Florida. She is actively involved with Leadership Tampa and Leadership Tampa Bay Alumni organizations.  Joanne is past chairman of the board of the Franciscan Center, and is a past president of the Suncoast Chapter of the Association of Fundraising Professionals. The Tampa Bay Business Journal named Joanne one of 51 Finalists for 2012 Business Woman of the Year in the Tampa Bay region.