Part of the Encore Story Project Series
Written by Tory Wilgar, Encore Story Reporter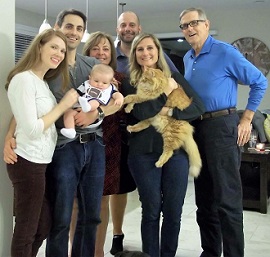 Dave Weidner had spent 40+ years in the finance world with Deloitte and other companies, working as best he could as we all do. He spent the most time in healthcare services, including specialty pharmacy.
Three years ago, after the sale of the last business by which he was employed, David was considering a next opportunity that required moving.  At this stage in their lives, his wife, Linda, really wanted him to consider another option. Linda gave him feedback on how his career had worked from her perspective and asked if there might be a better way to spend this second half of their lives together.
He recognized his wife had sacrificed so much to raise their family and how he had not appreciated her sacrifice for him & their family; it was his light bulb moment. David realized that he did have the power and opportunity to do something more helpful & respectful, allowing him to be more present for his wife and family.
Instead of leaving his career altogether, he contemplated his options.  One thing he knew for sure was that he was missing a piece in his life, and that was giving back to others in more meaningful ways.
With this in mind, he approached Morgan Stanley for a new role, and it paid-off.  He went from corporate CFO to personal CFO/Financial Advisor. Using his talents, Dave can offer financial advisory services to his clients through the resources and solutions for which Morgan Stanley is well-known
David feels the difference now is that his role and responsibility is more personally defined, in part measured by the relationships he forges with his clients.  "I get into conversations with people on a more personal basis in ways that I find enjoyable to me and hopefully helpful to them – not because I'm doing great things for them, I'm just doing what I like to do and it seems to translate."
The most fulfilling aspect of his job is the opportunity to make a difference in terms of the way people think about their financial life and how it contributes to their personal whole life. He attributes his ability to do this from his own personal growth.
My growth has come through my wife and family. For years, I was less attentive to understanding their real needs; instead I tried to define their needs for them. I defined their needs as security and a good education for our children.
 In retrospect, I didn't have the relationship with them that would have enabled me to see what could have been more beneficial in how they wanted me to relate to them. I made the choices as to how I wanted to relate to them.  I operated more from, "Here's what I'm going to do for you."
 Along with his own personal growth, he likes the professional fulfilment he feels now too: "I think about helping & serving others and not about what I need to succeed."
"I try to listen to make sure that whatever it is that we end up doing together, it's something that the person fundamentally believes in, not something that I have just offered to them.  My responsibility is to do things that work best for them."
 Over time, Dave has learned people give you the gift of getting to know them on a more personal level when you operate from a place of care and consideration for them.
When you can relate to people on a personal level, you gain their trust and, on occasion, they let you in beyond what they only want you to see.  Once you discover their needs, goals and areas needing attention, there is a greater opportunity to build their confidence and to help them to make better financial decisions.
"Certainly, there are greater purposes in life, but I am serving a purpose."
David's advice for others is to define your success more personally, not just as others do.
---
Dave Weidner is a Financial Advisor  with the Wealth Management Division of Morgan Stanley in Tampa, Westshore.  The information contained in this article is not a solicitation to purchase or sell investments. Any information presented is general in nature and not intended to provide individually tailored investment advice. The strategies and/or investments referenced may not be suitable for all investors as the appropriateness of a particular investment or strategy will depend on an investor's individual circumstances and objectives.  Investing involves risks and there is always the potential of losing money when you invest. The views expressed herein are those of the author and may not necessarily reflect the views of  Morgan Stanley Smith Barney LLC, Member SIPC, or its affiliates.