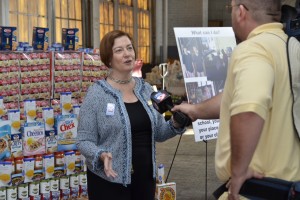 Encore Tampa Bay will now feature a new monthly blog post that features people in the Tampa Bay area who are living their Encore Careers.
I recently sat with Beth Houghton, executive director for the St. Petersburg Free Clinic.  Beth has an amazing story to tell about her multiple encore careers! With an MBA and law degree, she worked at the prestigious firm of Arthur Andersen for eight years.  Beth talks about feeling trapped in a job and a career track that was not fulfilling for her.  After participating in Leadership St. Pete, she realized there were many people working in jobs that provided a more meaningful connection with their values and interest.  She quit her job with no idea of what was next.  Her well-meaning friends and colleagues were convinced she had lost her mind.  Two months later, someone approached her about an open position as CFO for All Children's Hospital. She had done a little volunteer work at the hospital and knew that this was a place where she could use her technical and professional experience to make a difference.  She served as CFO and general counsel there for 12 years.  She was constantly looking for expansion projects that would truly benefit the organization long-term and challenge her to re-tool.
Eventually, she realized that there was something else out there calling her.  She jumped into an entrepreneurial adventure with a group of CPAs but soon realized this was not a fit for her.  She was then offered a great opportunity to work with a talented group of professionals to build a community bank.  It was an exciting experience to learn a new industry and work an amazing team of people.  They sold the bank several years later, along with selling Scott Paint (the family business) which gave her the financial freedom to really focus on what was still pulling at her heart…
In 2005, Beth began to volunteer at the St. Pete Free Clinic.  Working at the clinic really spoke to her and matched her strong Christian values.  Next thing she knew, she was chairing the board for the clinic and in 2011 when the executive director vacated the position, she knew this was the job she always wanted!  (By the way- Beth took me on a tour of the facility- and it is an amazing organization!)
I asked what her advice would be to others considering their encore careers. "She provided the following":
Organize your financial affairs so you can afford to do what you love.  Her great quote:  "Live under your means and you will always feel wealthy!"
Listen to your own voice as you choose a meaningful vocation.  Do not be swayed by others who do not understand your inner calling.
"Wallow" around in it for awhile. It takes time to figure our what's next.  Volunteering can help you figure out what fits for you.
This story is a great example of a person who not only followed her heart but paid attention to the opportunities as they unfolded before her.  Beth is truly using her lifetime of skills and experience to help and work with an organization that coincides with her values and provides true meaning and purpose for her life!  (On top of making a huge difference in our community!)
Do you know someone else who is living his or her encore career?  Let me know who they are so we can continue to be inspired!  Contact me at encoretampaybay@gmail.com
Bevan Rogel
Encore Tampa Bay