OUR MISSION:

Mobilizing mid-life experienced adults to improve the lives of the most vulnerable children and youth in our Tampa Bay Community.
THE NEED:
Over ½ of the children in Tampa Bay are part of low income families and they are already behind academically. Older adults are well positioned to step into the role of mentor or champion to ensure academic and life success.
Our schools and youth serving organizations are stretched for resources and need human capital to expand their reach and impact.
Tampa Bay has close to 1 million adults 50+ who are eager to devote their time to help young people thrive. Most are unsure of how to get started or where to look for these opportunities.
The benefits of these unions go both ways- working with young people helps older adults feel a greater sense of purpose and well being!
OUR APPROACH: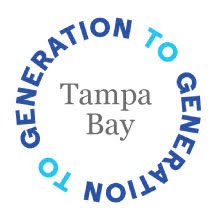 Generation to Generation Tampa Bay is a pilot program that will  build tools and approaches that will expand encore opportunities for meaningful engagement for older adults while improving the lives of children in our community.
A primary goal for this pilot program is to design and test new approaches to community engagement and recruitment. The critical ingredient is our partnering directly with community organizations (Outreach Partners) that have direct contact with older adults deep within the communities where we are recruiting a wider and more diverse volunteer population.
WHAT WE WILL ACCOMPLISH
Improve the lives of vulnerable children by connecting them directly with older adults to provide important role as mentor or other roles.
Expand encore opportunities for older adults in a variety of different roles. This also includes raising awareness of the many ways to get engaged, improving the process and transition for these older adults into the many youth serving roles.
Strengthen the capacity of the Youth Serving Organizations by widening/ expanding and diversifying the pool of prospective older adults.
Bring together many community organizations and different generations to focus on one common vision to improve the lives of the children in our community and create an intergenerational web of support.

Encore Tampa Bay is positioned to lead Generation to Generation Tampa Bay to drive change and bring our community together to improve the outcomes for people, young and old and to strengthen the organizations of the Tampa Bay area.