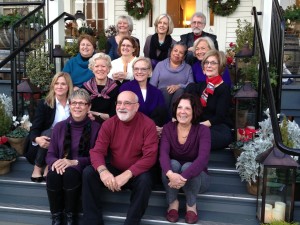 This week was full of many opportunities to be inspired!  I was honored to be a part of the National Encore's Leadership Institute this week in San Fransisco.
Encore.org has spent the last 15 years creating a social movement- dedicated to helping older adults (50+) engage in encore careers that combine passion, purpose, income and social impact in the second half of life.  Marc Freedman, founder of Encore spoke to us about this organization moving into Encore 2.0, to focus on strengthening the movement by becoming a support hub for emerging Encore leaders and communities that want to tap into the talent of older Americans. We want to continue to lead the charge that is changing the conversations about aging in America and inventing a new stage of life.
Fourteen Encore Innovation Fellows (pictured above) have been charged with rolling out an innovative Encore initiative in their community, with a long term plan to create models that can be replicated across the country.   For example, my Encore Innovation project will be creating pathways, programs and places that will grow Encore Entrepreneurs in Tampa Bay.  It was truly incredible experience to be connected with and learn from the individuals and organizations that have been early adapters and true leaders in the Encore movement over the last 10 years!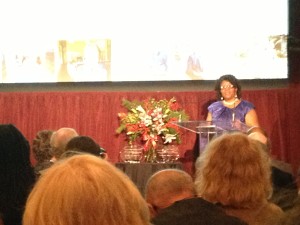 The icing on the cake for this incredible week of workshops and networking sessions was the opportunity to attend the 8th Annual Purpose Prize Awards Ceremony.  The Purpose Prize program was created to inspire others that they are not done in the second half of life and they still have a lot to give.  In this week's Wall Street Journal, the Purpose Prize was recognized as the next Mac Arthur Foundation's "Genius Awards" for non-profits.  The Purpose Prize honors individuals in their Encore and have made a significant  social impact. The Purpose Prize was awarded to 7 individuals (out of 1,000 submissions) over 60 years old, who have made a significant social impact in the world in their second half of life.  The top two winners were awarded $100,000 each.
I would like to share with you some (more are listed in

Encore.org

)  of their amazing stories — be ready to be inspired!
Marc Freedman ended the evening sharing his vision of 40 million boomers that are either in or searching for their Encore Career and the potential of all that talent to make an impact on our world!  Marc said,
"The world may be done with us, but we are not done with this world.  Let us reconsider living our legacy instead of leaving our legacy."
My life has been truly changed by all the incredible people that I have met this week!  I am proud to be a part of the Encore Movement and I welcome all of you to join me!